Printed from: https://conservationhandbooks.com/woodlands/a-brief-history-of-woodlands-in-britain/coppicing/
From earliest times in Britain, woodland needs were fulfilled not by the felling of new areas of wildwood, but by the periodic harvesting of managed coppice plots. Coppicing allowed the natural deciduous woodland to survive, in modified form, because of its exploitation for fuel, building wood and other purposes. The wide-held belief that woodlands were cleared for charcoal, fuelwood for brick and lime kilns and for tanbark is erroneous. In fact, these demands sustained the coppice woodlands, and it was with their demise that clearance increased.
'Coppice' comes from the French word couper, to cut. Coppices or 'copses' are woodlands cut on a fairly short rotation of five to thirty years. In most cases, one part of the wood, called a 'coupe', is harvested each year. The coppice trees and their produce are known as 'underwood'. Underwood species, which are all deciduous, respond to cutting by sending up multiple stems from the stools. Periodic cutting greatly extends the life of most trees, so that coppiced stools may be many hundreds of years old.
The practice of coppicing can be traced back to Neolithic times (4500 BC). Neolithic wattle trackways in the Somerset Levels are evidence of sophisticated coppicing systems which produced rods of exactly the same size. Archaeological evidence shows that coppice products were used for numerous rural needs throughout the Bronze, Roman and Saxon periods. It's estimated that 23,000 acres of coppice were required to provide charcoal for the Roman military ironworks in the Weald (Rackham, O, 1986). Coppicing remained the most widespread method of woodland management until the mid 1800s. The reason for its importance over such a long period was that it allowed the woodland crop to be harvested and converted with simple hand tools. Large, mature trees are difficult to cut, transport and convert, whereas coppice growth is of a size which is easy to handle.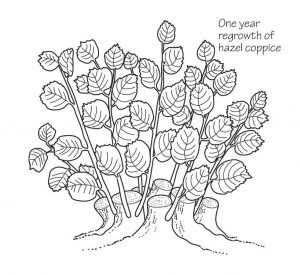 The long history of coppicing is the reason why ancient coppice woodlands can be seen as the direct descendants of the original wildwood. It is perhaps a paradox that a coppiced wood, with a structure which looks least like one's idea of the ancient natural forest, is biologically closest to it. It is unlikely that trees were planted for coppicing, or that any particular selection of species was made. Even in the late 18th century, it is recorded that 'the underwood was not carefully selected and planted; the production of it, both in quantity and quality was, for the most part left to chance' (Peterken, 1981). In some places coppices were 'improved' through encouraging the valuable species by layering, planting and natural regeneration, to fill any gaps where old stools died. Unwanted shrubs and invasive species such as birch were sometimes removed to favour the desirable species. However, the general pattern of species remained very close to the natural cover. Planting only became commonplace from the late 18th to the late 19th centuries, and then again in the period after World War II.
The system of 'coppice with standards' is also ancient, with records of felling dating from the 1200s. Under this system, some trees are grown as standards over a longer rotation, with the coppice beneath cropped at more frequent intervals. The coppice or underwood suppressed the lower side branches of the standard trees, so encouraging the growth of tall, unbranched trunks. During the reign of Henry VIII, there was a legal requirement that at least 12 standards per acre (30 per hectare) be grown, but at other times numbers varied greatly, according to the demand. Periods of felling occurred during time of war, as well as after the Dissolution and during the Commonwealth.
The words 'timber' and 'wood' have historically described different woodland products. Timber referred to the large beams and planks cut from standard trees, used for large buildings and other structures. Wood referred to anything less than 2 foot in girth (7" or 18cm diameter), and included coppice poles, pollard poles or the branches of large trees felled for timber. The coppice with standards system provided both timber and wood, and in a single plot the timber and wood often belonged to different people. Historically, wood was generally the more valued crop. From both the timber and wood crop, nothing was wasted, with branches, bark, 'loppium et choppium', twigs and even leaves having a use.
Oak was by far the most abundant standard tree, although other species such as ash were occasionally allowed free growth. Every soil type and region had characteristic combinations of coppice species. These included hazel and ash on the Midland clays, beech and sessile oak on western sandstone, and lime in central Lincolnshire. Hornbeam and sweet chestnut, a Roman introduction, grew widely in the south east, while local or minor underwood species included whitebeam, wild cherry, crab apple, maple and elm. Some underwood species were particularly suited to specialised uses, and there was some selection in favour of these, but most coppice remained mixed, to serve a variety of needs.
In the uplands, sessile oak was by far the most common species and dominated both the underwood and canopy of the coppiced woodland. Where conditions were difficult, standards grew too slowly and erratically to be worth fostering, so 'scrub oak' coppice without standards developed. Much of this was used for tanbark or charcoal.
From the late 18th century, coppicing began to decline. One reason for this was the trend towards growing more standard trees for the production of timber, and the fashion for new plantations. Many landowners greatly increased the density of oak in their coppice woods through supplementary planting, although much of this was never harvested. In the Chilterns, coppice working as well as wood-pasture management declined due to the planting of beech for the furniture industry. From the mid 19th century, some of the most important traditional uses of coppice products diminished as coke and coal replaced charcoal and firewood for fuel, and artificial substitutes replaced tanbark in the leather industry. In addition, the general agricultural decline of the mid and late 19th century meant that less hazel was needed for sheep hurdles and other farm products. However, many coppiced woods continued in use, and apart from a lengthened rotation, many coppices were much the same at the beginning of the 20th century as they had been a thousand years earlier.
Active commercial coppicing survived throughout the 20th century, mainly in the sweet chestnut coppices of Kent and East Anglia, with the main outlet being the fencing industry. In the last decade or so there has been a revival of coppicing, especially of hazel, in Hampshire and other southern counties, and of oak in the North West. This is partly due to the realisation of the importance of coppicing in maintaining traditional woodlands, and partly due to coppice workers developing new markets and products. These include faggots for bank stabilisation, barbecue charcoal, greenwood furniture, yurts, garden ornaments and many other products. The demand from coppice workers for good quality coppice in many areas now exceeds the supply.