Printed from: https://conservationhandbooks.com/tree-planting-aftercare/why-plant-trees/where-not-to-plant-trees/
Ancient and semi-natural woodlands
The lesson has been learnt that ancient woodlands are too valuable a natural resource to suffer interference. Management in the main is limited to the coppicing and occasional selective felling which ensured the survival of these woodlands for so many thousands of years.
Many newer woodlands, also, need sensitive management where natural regeneration is used instead of planting as a way of restocking the wood.
Changing land uses
Left unused, nearly all land below 800m (2,000ft) in Britain would eventually be tree-covered. Natural colonisation usually takes over where agriculture or development has retreated. Blackthorn and other species tend to spread from hedges and copses into unused agricultural land.
Disused industrial sites, old railways and derelict land become grown over with pioneer species such as birch and alder. Many of these sites have highly altered substrates, with free-draining industrial waste or rubble contrasting with pools, marshes and heavily compacted waterlogged ground. Some of these sites have, with little management, become highly valuable wildlife sites, with their locations in urban and industrial areas making them green oases in otherwise built-up areas. Management may be needed to improve access, to diversify or enhance habitats, but in general it's better to work with the natural regeneration rather than undertake extensive replanting.
Storm damage
The storms of 1987 and 1990 caused a swathe of damage across southern England. The 1987 storm blew down 15 million trees, of which 12 million were forest trees, and 3 million were individual trees in parks, gardens and street. In the last days of the 20th century a hurricane swept across France and blew down an estimated 360 million trees.
Certainly the 1987 storm was most damaging to man-made woodlands. Plantations, planted parkland and street trees suffered very badly. Ancient woodlands, semi-natural mixed woodlands and even ancient natural trees in parkland suffered much less. The storm in France completely devastated many 18th century Royal Parks, in which many of the trees were planted as mature specimens to create instant landscapes. Monocultures of similar-aged trees have been flattened.
Clear evidence of the 1987 and 1990 storms, and immediate observations from the 1999 storm is that naturally regenerated trees suffer very much less from storms that do planted trees. In the 1987 storm, about 30% of coniferous woodland in east Sussex suffered severe (more than 50%) damage, with broadleaved woodland suffering only about 7% severe damage. The least damage was to free-standing trees accustomed to exposure, and to woodland edge trees. However, where even the woodland edge trees had fallen, particularly around large woods, the trees within the woodland were mostly flattened. Small woods and clumps of less than an acre tended to fare better (Tree News, 1998).
In the rush to restore damage after the 1987 storm, some woodlands were damaged by the process of extracting timber and replanting. Those woodlands which were left to recover naturally have fared better. Obviously access routes have to be cleared and dangerous trees removed, but in general it is better to intervene as little as possible. Trees naturally fall or lose branches. Some fallen trees will continue to grow in a prone position. Broken trees regrow like a pollard. Other trees will regenerate from the stump or rootstock, so that the genetic strain lives on. New trees will generate from seed in the openings in the canopy where trees have fallen. Fallen dead wood has great ecological value and contributes to the overall health of the woodland ecosystem.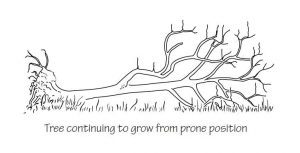 Mixed age woodlands, managed as necessary by a system of continuous cover forestry, are not only the best for wildlife, and economically sound, but also the best insurance against storm damage.
The storms also taught a lesson about planting. Trees must be planted very young, as small transplants. This gives them the best chance of growing the type of root structure and shape of trunk which will allow them to withstand storms. Although natural regeneration and continuous cover forestry are the best way to manage woodlands and forests, there is still the desire and need to plant new woodlands, and to plant avenues and clumps of trees, individual street trees and other ornamental plantings. For the best chance of long life, these trees must be planted small. It's also essential to choose species that are suited to the site. The storms exposed the shallow, insufficient root structures of many trees planted in the wrong type of soil or situation.