Printed from: https://conservationhandbooks.com/tree-planting-aftercare/why-plant-trees/the-history-of-tree-planting/
Orchard and garden trees
The skill of tree planting has been around for a very long time. The ancient civilisations had gardens and orchards into which they transplanted trees that bore useful crops, or those that could be clipped into hedges, or those which were valued for their shade or beauty. Trees were not only transplanted from the immediate area of natural woodland, but were collected and traded over great distances.
The ancient Greeks and Romans were great planters. The Romans have left evidence in their extensive horticultural manuals of how they planted trees. Advice included avoiding damage to roots, digging a large enough hole, and marking a tree with red ochre on one side before it was dug up, so that it could be replanted with the same orientation to sun and wind. There was also emphasis on not leaving tree roots exposed to the air. Baskets were used for transplanting, and for 'container growing'.
The Romans brought to Britain the cultivated apple, the black mulberry, the fig, the sweet chestnut, the common walnut and the medlar. The Romans were skilled gardeners and growers, and had a special name, the arborator, for a tree-tender. The ornamental gardener was called the topiarius; he tended evergreen trees and shrubs and was expert at topiary, which became a major passion of the Romans. The native box, holly and ivy, along with introduced laurel, cypress and myrtle, were used for edging ornamental beds in courtyards near the house. The Romans also made elaborate tree seats and tree houses (Huxley, 1978).
Planting of fruit, nut and ornamental trees in gardens continued in times of peace and prosperity. Once towns and settlements no longer needed to be crowded behind fortifications, space became available for gardens and planting. The Domesday Book (1086) mentions both horti (gardens) and hortuli (little gardens) in number. Monastery gardens were the most complex, with orchards of fruit and nut trees and large vegetable gardens. By the reign of Henry II (1154-1189) the wealthy citizens of London had relatively large gardens attached to their houses.
The practice of undercutting or transplanting in the nursery to produce a mass of fibrous roots which would aid establishment was recommended as early as 1569, by Dutch writers. Special tools for transplanting were developed, including split tubes of metal, which were pushed into the ground around a young plant.
As the prosperity of the great landowners increased from the early 16th century, planting of trees on a large scale for ornamental effect began.
In 1664, the diarist, statesman, gardener and arboriculturist John Evelyn published Sylva, A Discourse of Forest Trees, which included details of the propagation, planting and maintenance of native trees. Extensive planting of avenues and plantations by wealthy landowners had started as early as the 1500s, and John evelyn had learnt much from travelling widely in Britain and abroad. Sylva influenced more planting by landowners, including King Charles II, who ordered a large amount of planting in the new Forest and the Forest of Dean, to provide timber for shipbuilding.
By the mid 18th century, Capability Brown and others were sweeping away many of the earlier formal designs, instead planting in curves and clumps to create the English landscape garden. large trees were often moved, using various contraptions invented for the purpose. As was noted by a writer early in the 19th century, 'such Trees, for several years, grow so slowly, as to remind one of stricken deer' (quoted in Huxley, 1978).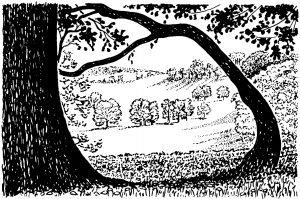 Planting for timber
The 'plantation movement', which began around 1600 and continued well into the 1800s, was characterised by experimentation with species choice, mostly for practical reasons. Oak, ash, beech, elm and sweet chestnut were planted for the purpose of producing items ranging from ships' keels to coffins.
Much new planting took place in Scotland, where by the beginning of the 18th century it had become a fashionable hobby. Scots pine was the favoured species, although European larch also became popular towards the end of the century. In England and Wales, landowners produced timber by supplementary planting in coppice woodlands, or by extending existing parks and woods, as new sites for afforestation were fewer than in Scotland. Oak and beech, with Scots pine as a 'nurse', were widely used.
Many of these plantations in England and Wales were never harvested, because of the changes brought about during the 19th century. Huge imports of cheap timber from other countries then under British rule made private domestic planting for timber production unprofitable. Stands of oak planted during the plantation movement were unsaleable, and their remains comprise much of today's 'traditional woodlands'.
Private planting had nearly ceased by the end of the 19th century, and did not start again until the 1950s. By the start of the 20th century, Britain was almost totally reliant on imported timber and forestry products. The heavy demands and the reduction of imports brought about by the First World War led to severe shortages of timber, and about 180,000 hectares (450,000 acres) of privately owned woodlands were felled to meet the demand.
in 1919 the Forestry commission was established to ensure such a situation could not arise again, and began a massive planting campaign. Using mostly conifers and other fast- growing species, about 145,000 hectares (359,000 acres) were planted. Single species or simple mixtures in straight lines were planted close together in large, even-aged blocks, and laid out with little consideration for landscape variations. Much of this planting was on heathland and moorland, damaging or destroying their fragile ecology.
When the Second World War began, the Commission plantations were too young to harvest, and a second major felling of about 212,000 hectares (524,000 acres) of private woodland was necessary.
However felling is not necessarily a problem for the continuity of woodlands. Trees regrow from felled stumps, from suckers and from seed. As long as the ground is not cleared by machine, or turned over to another use, the woodland will regrow. It may have a different structure, and have different proportions of species, but it will still have features of the earlier wood.
More damaging was the period from 1945 to about 1975. Food shortages during the Second World War led to a policy of increasing agricultural production and efficiency. Many woods, copses and hedgerows were removed to increase the area under cultivation, and to make field sizes larger and more suitable for modern machinery.
Grants also encouraged the planting of conifers in ancient and other woodlands, to increase timber production, and during the period from 1945 this was the major cause of damage to ancient woodlands. However by the end of the 20th century, the situation for ancient woodlands appeared much less bleak. In many of these plantations the original trees had regrown, and suppressed the planted conifers (Rackham, 1990). The Forestry Commission now recognises an important category of woodland called Plantations on Ancient Woodland Sites, and advice is directed at their restoration.
Planting of introduced species on heathland and moorland has virtually ceased. Many of the plantations made between and after the wars have reached maturity, and are being felled. Management is being directed much more at multi-use forests, where recreation and wildlife have a high priority. Ironically, some of these plantations have become well-loved features in the landscape, and their removal to restore heathland can be a cause of public outcry.
In Scotland, recent surveys have shown that the native woodland resource of Scotland is greater than had earlier been estimated, and that a considerable amount of new native woodlands are being created. The current estimate of native woodland is 320,938 hectares (792,717 acres), of which 47% is natural origin, and 53% planted origin native woodlands (MacKenzie, Forestry Commission, 1999).
The Forestry Commission have also recently moved away from their general policy of managing broadleaved, coniferous and mixed woodland by clear felling. Instead more natural 'continuous cover ' systems are being developed, under which there is selective felling of trees within a woodland, and natural regeneration and replanting are used to maintain a continuous woodland cover. Clear felling and replanting is an expensive operation, in terms of labour and resources. It can also be highly damaging to soils, drainage and ecological systems within the woodland, so that essentially each time a wood is clear-felled, its value as a capital resource is destroyed. Continuous cover forestry requires greater skill to manage successfully, and involves working with the woodland in a much more natural way.
The greening of cities
Ebenezer Howard's Garden Cities of Tomorrow (1898) inspired a new approach to solving the urban crisis. He advocated the building of planned towns incorporating low-density housing with trees and green spaces. Letchworth and Welwyn Garden City, now richly endowed with trees, were built to his design. Howard's ideas also gave impetus to the establishment of New Towns, 28 of which were designated from 1946, and which have had a high success rate, in both commercial and amenity terms, with their urban forestry schemes. In the older cities, development mainly persisted with no overall landscaping plan to balance it. While some trees and woodlands survived to form part of the urban expansion, many were felled to make way for roads and other building schemes.
The desire to improve urban areas by 'greening' them persisted, and by the 1970s, urban ecology had become a distinct discipline, with great interest in conserving, planting and managing many urban green spaces. Much of this work is being continued through the implementation of the community Forests (see below).
Government agencies, non-governmental organisations, charities, local authorities, highway authorities, service providers and many other groups are involved directly or indirectly in tree planting. The Countryside Agency is working to double the area of woodland in England, with similar targets set by the agencies in Wales, Scotland and Northern Ireland.
The Community Forests
The 12 community Forests in England were started in the early 1990s through a partnership between the Countryside agency, the Forestry commission, local authorities, businesses and voluntary groups. The community Forest initiative has multiple aims:
an increase in woodland coverage. Only 7% of England is wooded, which is the second lowest percentage in the European Union. in each Forest, the aim is to plant up to 30% of the area, to create a wooded framework for multiple use.
To encourage economic regeneration, by providing high quality environments in which people can live, work and relax.
Managing new and existing woodland to encourage enterprise, jobs and training.
Maintaining and creating new habitats, not only of woodland, but also glades, meadows, hedgerows, ponds, wetlands and other areas for wildlife and people.
Improvement of access for walkers, cyclists, canoeists and other recreation users. Where possible, routes are linked to the National Cycle Network, National Trails, Greenways and to public transport provision.
Providing opportunities for school groups and others to use the forest for learning, creative activities and other projects.
Community participation, not only in practical management but also in initiating many types of creative art and community projects within the Forest.
reclamation of derelict land and landfill sites by tree planting and other environmental improvements.
In each Forest, a locally based team works with agencies, landowners, farmers, businesses and local communities to implement the plan agreed by local people and Government. Some projects involve a change of land ownership, but most land remains in its original ownership, but managed in a different way.
It is planned that the community Forest programme will last until at least 2030. In the period 1991-1999, 6,220 hectares (15,370 acres) of new woodland were planted, and 8,796 hectares (21,735 acres) of existing woodland were brought into management. About 10,112 hectares (24,987 acres) of woodland were opened up for access and recreation. In addition, there was creation or improvement of access routes, hedgerows and other habitats. Further details are available in Regeneration around cities (Countryside Agency, 1999).