Printed from: https://conservationhandbooks.com/toolcare/planning-a-workshop-and-toolstore/structural-alterations/
Where tenancy of the building and funds allow, some structural alterations may help you make the best of the space you have acquired. Any structural alterations should be carried out by competent people.
Access
To speed loading and unloading of tools, make sure that vans can be reversed as close as possible to the toolstore door. If there is a pavement outside the door, you can put down temporary wooden ramps so that the van can be reversed up onto the pavement, so long as you do not cause an obstruction.
Double doors or a single wide door that allow two people to pass are useful during loading and unloading sessions, and also for manoeuvring any large items of equipment such as work benches. Planning permission may be needed to alter the door. Most demolition yards should have a good selection of doors, and you may be able to get one complete with frame.
Exits from the toolstore and workshop should be marked as such and kept clear and well lit at all times. Fire extinguishers should be provided.
Security
Fit or replace door locks as necessary. Each external door should have a security deadlock, which is a lock that can only be opened or closed with a key. Double doors should have one door with bolts, and the other with a deadlock. Night latch locks, which can be opened from the inside without a key, are not sufficiently secure. A thief gaining access through a window can then open the door from the inside for an easy getaway. Night latch locks can also be easily opened by breaking an adjacent window and reaching through. Make sure you know exactly what size and combination of lock and handle you need before purchasing, as they are available in a bewildering selection. Security deadlocks are of two basic types: either a mortice lock which fits into the thickness of the door, or a rim lock for thinner doors which is screwed onto the face of the door. Mortice locks are the more secure.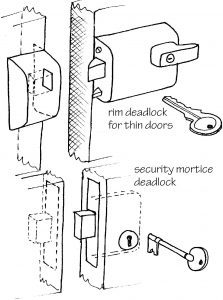 Window locks for virtually all types of windows, including skylights, are available from DIY stores, and are well worth fitting.
Natural light
The workshop area should receive a reasonable amount of natural light, as this is the best light under which to work. If considering putting in extra windows, remember that this will mean less wall space for storage, and increased security risk. Skylights are a useful way of getting more light into a room without loss of wall space, and also give valuable overhead light so that workbenches can be placed centrally. Velux roof windows are easy to fix to tiled or corrugated roofs, and may not require planning permission (except on a listed building), but are rather costly. Windows are readily available from demolition yards, or free for the asking where replacement windows are being fitted. Check that the frames are sound.
Painting the walls white will make the most of the available light, and make wall-hung tools and racks easy to see.
Ventilation
For workshop areas, this should be considered at the same time as natural light. Under Building Standards, any habitable room must have opening windows with a total area equal to at least 5% of the floor area. Although most workshops would not be classed as habitable, this does give a guide to the minimum ventilation needed. Where a lot of dust is being created, extra ventilation will be needed. Extractor fans are available which can be fitted either vertically or horizontally.
You must also consider ventilation for the toolstore, to prevent the build up of humid air which will speed deterioration of tools, wellies, tents, ropes and so on. Ventilation is also important if storing LPG or petrol. If the toolstore needs to be locked up for most of the time, make sure the ventilation is burglar-proof.
Apart from windows, the various options for increased ventilation include extractor fans in external walls, internal windows or openings which ventilate into other parts of the building, and vents fitted into wooden floors, disused chimneys and roof spaces.
Division of area
The ideal is to have separate but adjacent rooms for the toolstore and workshop, with an outside door and direct vehicle access. You would normally want the toolstore nearest to the outside door, to minimise the distance tools have to be carried. At all costs avoid the arrangement where you have to walk through the workshop to reach the toolstore. Not only will tools inevitably get dumped in the workshop, but workshop tools will tend to disappear out on projects. The work- shop should have its own internal door which can be locked.
If the available area is divided between different floors, you would normally have the toolstore on the ground floor for ease of access. However, other factors such as natural light, power and water supply or the size of the rooms may dictate otherwise.
In deciding the division of floor space between toolstore and workshop, you need to think about how your group works. If you run training sessions on workshop skills you will need enough room for several work- benches, or for a very large central bench around which several people can work. If on the other hand the group does not run training sessions but has only one or two people who take responsibility for all tool maintenance, you can manage with a much smaller area.
Whatever size your toolstore, you will find that tools apparently expand to fill it. This is because with more space you can get away with being less tidy, and also with being less ruthless about clearing out the odds and ends that accumulate. The same, of course, applies to a workshop, office or anywhere else. In a small space you have to be tidy and organised. With proper racks and shelves, a large number of tools can be stored in a surprisingly small area. An oddly shaped toolstore can be an advantage as this provides lots of wall space and corners for storage. A single open space will need to be provided with freestanding racks, shelves and so on to make the most of the space available.
If you are faced with a single area for both workshop and toolstore, you may need to put up a partition. Unless your group does a large amount of training, a division of about one third workshop to two thirds toolstore should be about right, but each situation needs assessing individually. Remember also that you may want to heat the workshop if you intend working in it during the winter, and this can be done much more efficiently in a smaller area.
The simplest type of partition to erect is of wooden studwork faced with plasterboard. Consult any good DIY book for details. Although properly constructed stud partitions can take a fair amount of weight, beware of overloading them with shelves or racks of very heavy items. Fixings for shelves must always be made to the upright studs, not to the horizontals or the building boards. If in any doubt, it is reccomended that a competent contractor is consulted.
Windows can be incorporated into stud partitions, providing 'borrowed light' and ventilation for the darker room. Stud partitions can easily be removed if the requirements for space change, and re-use of most of the materials should be possible.
Where the lease allows, and floor conditions are appropriate, a stronger partition could be made of concrete blocks, rendered and painted. This would also be more sound-proof than a stud partition, which may be useful in some circumstances, and can take a greater load from shelves or racks.
Floors
Wooden floors, either on ground or upper levels, should be checked to make sure they are in sufficiently sound condition to take the loads you intend putting on them. This should be done before any lease is signed, as repair is a major undertaking. Wooden floors at ground level can become rotten if there is no damp-proof membrane, and rot may not be immediately obvious. If there is any doubt, get a building surveyor to check.
Solid concrete floors should be fairly trouble free, though damp can be a problem. The effects of damp can be lessened by painting the floor with a damp sealer. Small holes and irregularities can be levelled by first applying a PVA compound and then filling it with a 1:3 cement- sand mortar with PVA added. Larger irregularities may just have to be lived with, as they are difficult to level without laying a new screed over the entire floor. Self- levelling cement can be used in some situations, but needs to then be itself protected with a floor covering. Note that some machines, such as lathes, must be mounted on perfectly level floors.
Concrete floors are cold to stand on, and do nothing to deaden sound, but any form of covering is usually too expensive. Vinyl on workshop floors tends to get swarf (tiny slivers of metal produced during metalworking) embedded into it. Concrete floors can be improved in appearance and made easier to keep clean by sealing and painting with a concrete paint.
Noise reduction
Apart from the noise of vehicles and over enthusiastic volunteers, the main source of noise from a workshop is likely to be from machinery and power tools. The first step in noise reduction is to make sure that machinery is running properly and that all parts are securely fastened, so that vibration is reduced. Vibration isolators can be fitted between the mounting points of a machine and the operating surface. Commercial vibration isolators, made of rubber sandwiched in metal, are available, and the machine manufacturer should be able to advise on the most suitable type. Otherwise, pads of cork or felt can be used, although these will deteriorate with age and exposure to oil. Special pads of dense rubber are avail- able from car parts suppliers, which can be stuck onto metal surfaces to reduce vibration and noise.
Noise reduction measures include both reducing noise within the room by providing materials that absorb sound, and by insulating to reduce noise reaching the outside. Low density materials such as polystyrene which have high absorbency do not insulate against noise transmission. The best materials for insulation and absorption of sound have a high density and low stiffness. Any very stiff material such as metal can be improved by backing with a layer of mastic, plasterboard or mineral wool.
Various materials can be used to line walls and ceilings to absorb and reflect sound, including polystyrene, fibreglass insulation, and even materials such as foam, thick fabrics, carpeting and egg-trays. A few old armchairs placed in the room can reduce sound in more ways than one! Unfortunately, most of these materials constitute a major fire-risk. Probably the best material to use is mineral wool or rolls of fibreglass of the type used for heat insulation, attached behind hardboard, peg- board or perforated sheet metal. Various insulating sheet materials are also available from building suppliers. It may be worth insulating the ceiling or roof anyway to prevent heat loss from the building.
Another technique is to hang panels of absorbent material vertically from the ceiling. The noise is reflected from one panel to another and thus absorbed.
Polystyrene must not be used in tool stores or workshops.