Printed from: https://conservationhandbooks.com/nature-activities/loving-ladybirds-attracting-your-garden/
You can find some fantastic creatures in the garden. Many of them help us to look after our plants. One of these is the little ladybird.
This spotty (stripy, patchy or streaky) friend likes to eat greenfly – the naughty insects that love to feast on our plants.
Next time you are in your garden see how many different ladybirds you can spot and how many spots you can count!
There are many different types of ladybird. The easiest one to see is about the size of your little fingernail and it is bright red and has 7 black spots – it's called the 7-spot ladybird!
But there are also orange ones; stripy ones, yellow ones, ones with patches and ones with streaks. Many have different numbers of spots – from 2 to 24.
You can also look out for their larvae. They look completely different from the adults. The lifecycle of a ladybird has four stages – the egg, larva, pupa and adult.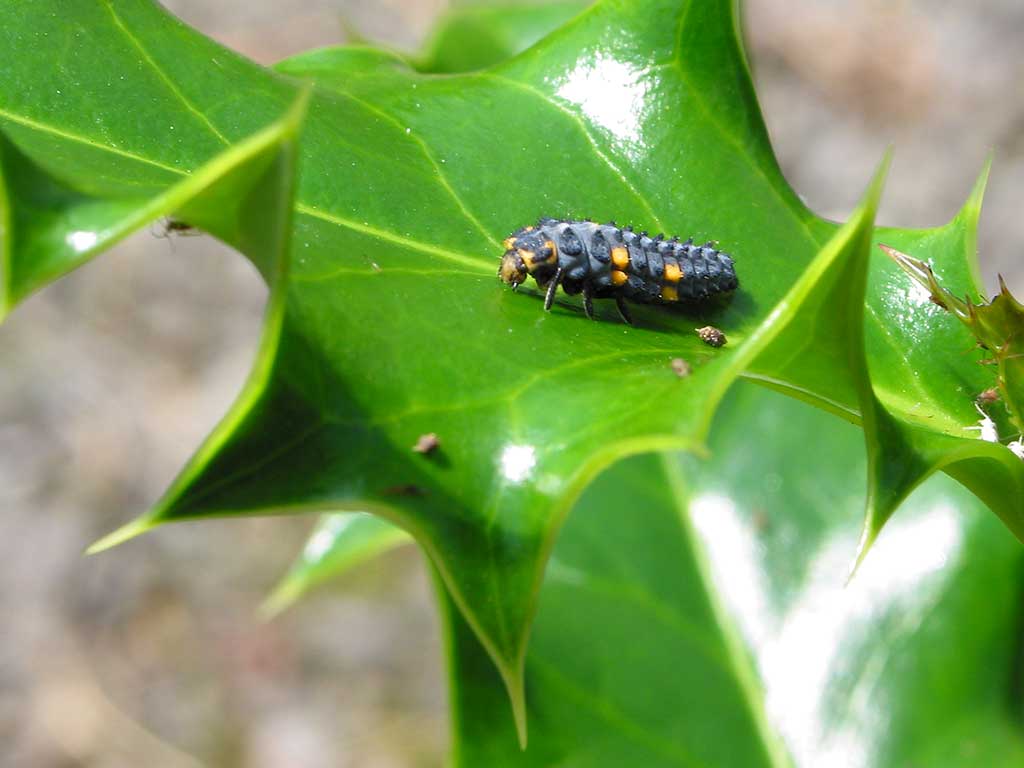 How to find ladybirds
During the winter, they will hide in sheltered spots around your garden or inside buildings like sheds. Please don't disturb them during this time.
In the spring and summer when they are active, lay a lightly coloured sheet on the ground under a shrub and gently shake it. Insects, including ladybirds, will fall out.
Use use a magnifying glass to have a closer look at your finds. Count how many ladybirds there are and how many spots (or other markings they have).
Why not have a go at making a 'pooter' –  a simple bug hunting device that allows you to photograph and identify your quarry without harming it.
How you can help
Providing food, water and shelter will attract wildlife, including ladybirds, into your garden.
Make a bug hotel in your garden for insects to shelter in.
Create a log pile – simply use branches or twigs and pile them up in a shady part of your garden.
Create a wildflower meadow or let your grass grow a little longer.
Stop spraying pesticides and weedkillers.
Grow herbs like fennel or mint.