Printed from: https://conservationhandbooks.com/fencing/design-and-siting/choosing-a-fence/
Some content on this page may be a little dated. Things like legislation, prices and grant information can change quite quickly. This page was created from content written during or before 2012 and is a priority for us to update.
This section considers first the fixed factors, which are matters which have to be taken into account when choosing a fence, and over which you have little or no control:
Terrain
Access to site
Use
Boundaries
Climatic effects and pollution
Snow
The variable factors, over which you have some control, are then considered.
Intended life of fence
Maintenance
Appearance
Terrain
In easy terrain, that is flat or gently sloping land with deep, well-drained soil, there is no difficulty in erecting any type of fence. The problems come with undulating or steeply sloping land, thin soils with rock exposed or near the surface, or soft marshy soils.
On undulating land the problem is to keep the base of the fence close to the ground, so that it is still stock proof. Any form of strained fence will tend to pull up out of hollows, and either tie downs and extra straining posts will be necessary. Where gaps are unavoidable, they will need to be filled with rails or netting. It is easier to fit line wires than stock netting to undulating terrain.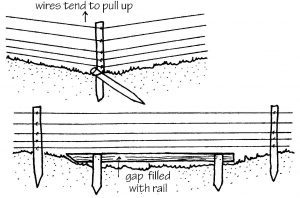 Nailed post and rail fencing is useful in very convoluted land as it can be built to fit the contours. However, such slopes usually mean thin soils, and difficulty in erecting posts. Any form of panel fencing is awkward on slopes, as the panels have to be 'stepped' to fit the slope.
On shallow soils and rock the problem is getting the posts into the ground, while on soft soils the problem is reversed – how to get the posts firm. Both problems are best reduced by choosing a design that uses as few posts as possible. High tensile fencing uses about a fifth of the posts used in ordinary (mild steel) wire fencing, with straining posts much further apart. Thus there is an obvious advantage in using this type of fencing in difficult soil conditions.
Access to site
Many sites worked on by conservation volunteers are not accessible by ordinary vehicle, and much effort may need to be spent on carrying the materials on site. A fence design which has the minimum number of posts, and avoids single very heavy or bulky items is advisable. High tensile wire reduces the number of posts, and use of box strainers rather than conventional strainers will avoid having to carry massive straining posts. Note though that high tensile stock netting is normally supplied in 100m rolls, rather than the 50m rolls for most mild steel netting, and so are considerably heavier.
Electric fencing saves on materials and weight, but distance from power supply and the need for maintenance may be a problem in remote sites.
Use
Conservation
The main conservation use of fencing is to protect regenerating woodlands and tree planting sites. Fencing may be needed against stock, wild animals including deer, rabbits and hares, and against interference by people.
If fencing against wild animals, it is important to try and identify the type of animals and the likely level of damage, as this type of fencing is expensive in materials. There may be cheaper alternatives, such as individual tree protectors, which can be used. See here for further information on fencing to protect trees.
Another important conservation use of fencing is to manage open land, such as downland, grassland or heathland, by the grazing of sheep or cattle. Many of these semi-natural habitats were created by grazing of stock, and grazing needs to be reintroduced in order to maintain them. Cheaper forms of fencing, such as permanent or temporary electric fencing may allow grazing to be used as a means of managing such areas.
Stock
The designs shown earlier in this chapter indicate the types of fencing required against different types of stock. However, within these guidelines there will be variations, according to particular breeds, and on the stocking rate within the enclosure. Content animals with sufficient grazing and shelter have less inducement to break through fences.
Stock may find their way out of an enclosure in the following cases:
If there is not sufficient grazing or extra feed available for the number of animals.
If the grazing is better on the other side of the fence. Animals will lean over or push their heads through fences to get at fresh grass on the other side, and to browse on tree leaves. All stock enjoy fresh grass that has not been trampled or grazed by another animal.
Stock will seek shelter and shade. If exclosing woodland, try and leave a few trees accessible to give shade and shelter for stock. There will be extra stock pressure on fences that are shaded and sheltered by adjacent woodland.
Mountain breeds and some rare breeds of sheep are more likely to jump than other commercial breeds.
When being herded by sheepdogs, sheep may jump or break through a weak part of the fence. Corners or narrow lanes where sheep will gather may need slightly higher fences to prevent them jumping.
Animals on their own get lonely and bored, particularly horses and ponies used to company and exercise. Getting a sheep or donkey for company may do the trick, and be cheaper than renewing the fencing.
Amenity
A whole range of fences may be needed for controlling public use of amenity sites, from simple post and rail barriers to direct people, to substantial safety fences in situations where there is danger to the public.
There are legal aspects to be considered in erecting any safety fencing, because by erecting such a fence, the landowner is admitting there is a danger. If the fence then fails and someone is hurt, the landowner may be liable. Any danger should be assessed, and the options of fencing, erecting warning signs, or doing nothing should be considered.
Barriers and fences to control trampling, and to trap eroding material, are often needed on heavily used sites. These are described in Footpaths. Similarly, the need for sand fencing is usually caused by trampling and destruction of vegetation on popular sand dunes.
Boundaries
Boundary fences may be the responsibility of one landowner, or neighbouring landowners may share the responsibility for boundary fences, as is often the case in Scotland. In either situation, it may be possible to reach agreement with the adjacent landowner about the type of fence which would suit both parties, and to share costs and maintenance accordingly.
Climatic effects and pollution
Wire rusts more quickly in heavily polluted air and in salt-laden air, where heavy gauge wire should be used. The life of the zinc coating or galvanising (heavy coat) is about 20% of the total life of the wire. Once the layer of galvanising has deteriorated, the life of the wire depends on its gauge or thickness. The spreading of slurry or lime which comes into contact with fences also shortens wire life.
Snow
The weight of drifted snow can push a fence over, or break parts of the fence. The likelihood of this happening can be reduced by siting the fence away from hollows and breaks of gradient where snow accumulates. Fences of close mesh, such as rabbit fencing, will result in greater build up of snow than large mesh or line wire fences. High tensile and spring steel wire have more 'springiness' than mild steel wire, and are less likely to become permanently slackened by the weight of snow.
Cost
Labour
Labour costs for most fences amout to within a third to half of total costs. Generally, high tensile and permanent electric fencing are lower in labour costs, because fewer straining posts and stakes have to be erected compared with mild steel fencing. Labour costs are higher where rabbit netting has to be attached. Any wooden fencing has a high labour cost per metre.
Site managers should consider carefully whether to use contractors or volunteers for any fencing work required. Conservation volunteers should only be asked to do fencing work which has a conservation or amenity value. When comparing contractors' rates with the costs involved in using voluntary labour, bear in mind that contractors will be much quicker, especially on straightforward fences. On difficult ground, awkward fence lines, and in remote sites, where 'many hands make light work', volunteers should be an economically viable work force. They may also be doing a job that may otherwise not be done at all, as contractors are less likely to be interested in this type of work.
The labour cost of checking and maintaining fences should also be taken into account.
Materials
Table 1a shows the approximate costs of materials for different types of fences. These costs are for timber, wire and accessories at average commercial rates for 2001.
For short-term fencing, costs may be reduced by using home-produced or second-hand timber. For most fences however, it is best to use durable or properly treated timber that will give a maximum working life.
Plain wire is sold in coils by weight, and thinner wire is cheaper per unit length. High tensile and spring steel wire are slightly more expensive than mild steel wire. High tensile stock netting is more expensive than mild steel netting of equivalent height and gauge. High tensile wire requires fewer posts, staples and other accessories, and keeps its tension under varying conditions.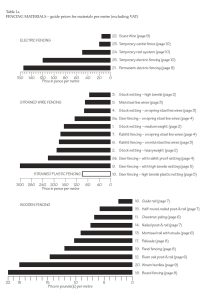 Intended life of fence
How long is the fence required to last? There is no point in using top quality materials for a fence only required for a few years, for example to keep animals out of woodland long enough for natural regeneration to become established. On the other hand, a fence from which one wants the maximum possible life needs to be of the best materials, and of a design to cope with many years of wear and tear.
The most common type of temporary fencing is the electrified wire or netting used for rotational grazing. This is designed to be moved and re-used, and provided it is looked after carefully while both in use and in storage, this type of fencing can last for several years.
Short term fencing includes fences to protect new plantings of trees and hedges, woodland regeneration, to encourage sand accumulation, and to redirect footpaths and bridleways. Fencing for trees and woodlands is discussed here.
Newly planted hedges should be fenced until they are laid, which is normally about ten years after planting. For cattle and horses, a post and two line wire fence, set about one metre from the hedge, will be sufficient. Stock netting will be required against sheep. Non-durable timber should be suitable for posts if the fence is only required for ten years. According to the style of hedging, newly laid hedges will need protection for two years after laying, to protect the new shoots. For more details see Hedging.
Fences and barriers to redirect footpaths are only normally required for as long a it takes to get the new path in established use, and possibly to allow vegetation to disguise the old path. A post and rail fence of untreated timber would normally be suitable, as it is easy to erect over short distances, and is clearly visible. In places where the old path may still attract use, a fence of chestnut paling may be necessary to stop people climbing over.
Maintenance
How much maintenance is the fence likely to receive? Fences on inaccessible sites, or in remote upland areas and so on must be built so that minimal maintenance is required. Although this is the optimum standard for all fencing, those that are checked regularly and can be easily repaired need not be so robust.
Properly erected strained wire fencing should last well, but the effects of snow, flood or falling branches, as well as wear and tear by stock, may make it no longer stock proof. Remove any obvious hazards such as overhanging unsafe branches.
In general, the more sophisticated the design of fence, the more likely it will need attention. Electric fencing needs frequent checking, and any repairs must be done by someone who understands the system. Monitors are available which show any faults along the fence line.
Fences of line wires with droppers should be checked to make sure that droppers are still in position, and wires taut, so that the fence is still stock proof. Stock netting fencing requires very little maintenance, and is still usually stock proof even if somewhat slackened.
Post and rail fencing needs possibly the least maintenance, which is one of the reasons it is used for motorway fencing. Any repairs can be quickly done, with no special tools required.
Another factor which may affect the need for maintenance is the likelihood of vandalism. Any wire fences which can be easily cut are obviously vulnerable. Wooden fences may attract vandalism and theft for fuel and other uses. Non-wood posts are used in some areas, and other devices can be adopted to deter vandalism and theft.
Appearance
Most well-erected fences look acceptable, but some are particularly associated with urban areas, and thus 'urbanise' if put in a rural setting. Examples are any type of fence with concrete posts, and chain-link fencing.
Post and rail fencing is made of attractive material, and is usually associated with paddocks, stud-farms, farm entrances and so on. Although now widely used for motorway fencing, it remains a high quality 'rural' fence.
Permanent electric fencing of high tensile wire has the advantage of using fewer and smaller posts than other types of wire fencing, and is therefore fairly unobtrusive on open grassland and moorland.
Often though it is the line of the fence, and the landscape that will evolve from the fence's existence, for example the shape of a woodland, which is more important than the actual appearance of the fence.